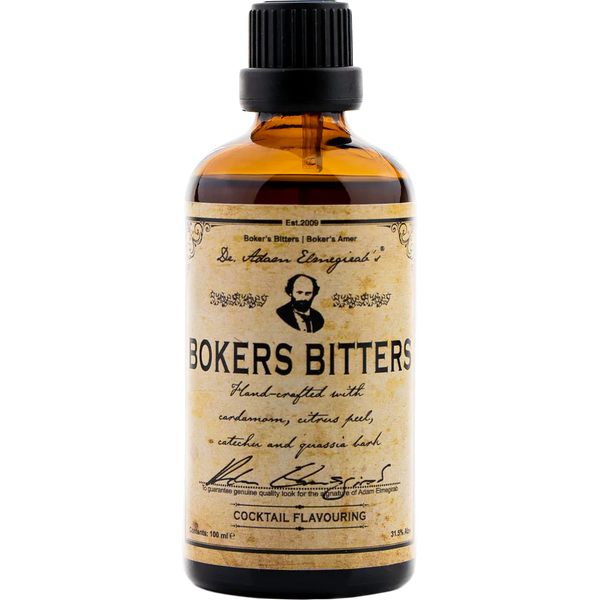 DR ADAM ELMEGIRABS Bokers Bitters 100 ml
Founded in 2009, Dr. Adam Elmegirab's Bitters was formed "for bartenders, by bartenders,", creating a fully transparent brand where honesty and authenticity is at the heart of all that they do. Their sole desire is to create a range of unique, quality, hand-crafted products for the growing demands of the drinks industry, with the spotlight being shone on botanicals and the influence they have in the cocktail world.
In keeping with traditional production techniques, all the bottlings are hand crafted, combining high quality spirit purchased from England's Langley Distillery with specially selected botanicals sourced from across the globe. Dr. Adam Elmegirab's Bitters are all produced with natural - and organic in every case possible - ingredients with no glycerin, preservatives, or synthetic flavorings and colorings.
Bokers
Originally founded by Johann Gottlieb Böker in 1828, Boker's Bitters gained popularity around the World as the finest bitters of the Golden Age of mixed drinks. Tasting and analysing original samples, referencing historical medical guides, as well as unearthing court records and a series of counterfeit recipes dating as far back as 1853, Dr. Elmegirab used these findings to reformulate a historically accurate representation of Boker's Bitters and brought them back to market at the end of 2009.
Key Botanicals:
Dried orange peel (Spain)
Green cardamom pods (Guatemala)
Catechu (India)
Quassia bark (Jamaica)
Star anise (Vietnam)
Cloves (Sri Lanka)
Angelica Root (China)
---