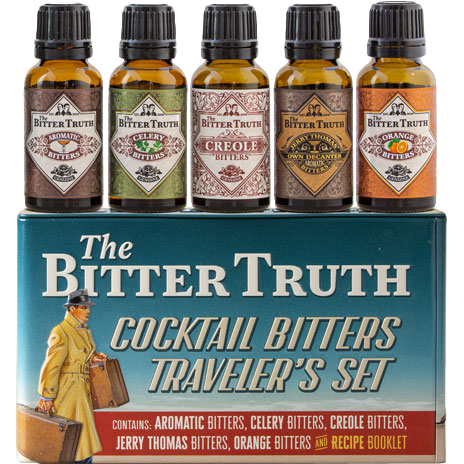 BITTER TRUTH Set Traveler's Set 100 ml (5 x 20 ml)
The Bitter Truth Cocktail Bitters Traveler's Set is the ideal companion for all globetrotters who won't settle for anything less than perfect drinks during their travels. With 5 different classic bitters in 20ml format in a lovely designed tin box, it is suitable for carry-on luggage and is also the perfect addition to anybody's home bar. Includes a recipe booklet.
Aromatic: Classically bitter and tangy. Combining the aromatics of cinnamon, cardamom, anise, and cloves, it reminds one of gingerbread.

Orange: The aroma of bitter orange peel is in the foreground, complimented by the spicy flavors of cardamom, caraway, and nutmeg.
Celery: Very complex and exotic. The initial flavor of celery is dominant, leading into a complex palate with aromas of lemongrass, orange peel, and ginger.
Creole: The complex combination of flavors hints upon spice, bitterness, and cardamom with a subtle floral finish that evokes the flavors of Creole cuisine in New Orleans/Louisiana.
Jerry Thomas: Dedicated to Professor Jerry Thomas (1830-1885), who is considered to be the most famous and important bartender of the 19th century, these bitters reveal citrus and dried fruit aromas which unite with the spicy flavors of cloves, angostura bark, and cinnamon.
Contains 5 mini size bottles: Aromatic, Orange, Celery, Creole & Jerry Thomas
Embossed metal tin
Recipe booklet
5 x 20 ml (0.7 oz)