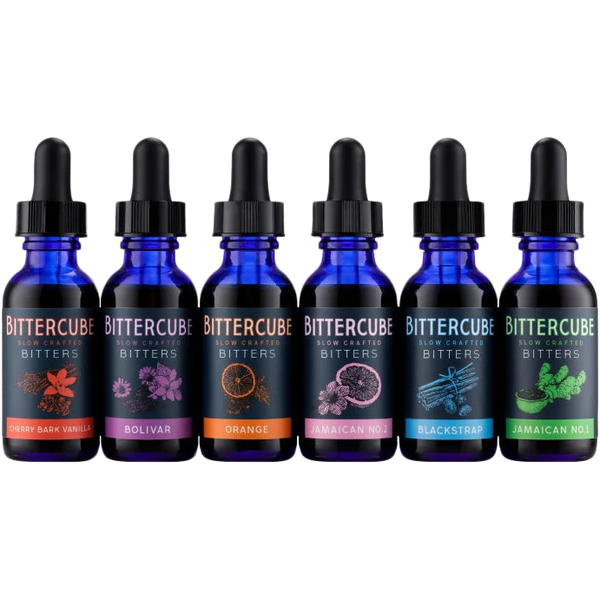 BITTERCUBE Variety Pack No. 1
Variety Pack No. 1 Contents:
Cherry Bark Vanilla, Bolivar, Orange, Jamaican No. 1, Jamaican No. 2, Blackstrap
Blackstrap
Full-bodied and earthy, with two types of molasses, three types of cinnamon, nutmeg, sassafras and sarsaparilla aroma and flavors. Perfect for garnish atop egg white cocktails to provide visual appeal and intense aroma. Select Ingredients: Saigon cinnamon, ceylon cinnamon, molasses, sassafras leaves, sarsaparilla, nutmeg, mace, kola nut, gentian. Application: Hot cocktails, egg white cocktails, as cinnamon in baked goods.
Bolivar
Versatile and aromatic, with floral notes of chamomile and jasmine, plus cinnamon and dried fruits on the finish. Bolivar is an homage to an old recipe found in a 19th century cocktail book. These bitters add complexity and depth to any cocktail. No pre-made extracts or flavors are used in our slow-crafted products. Select Ingredients: Chamomile, jasmine, cassia & ceylon cinnamon, prune, raisin, clove, gentian, orange peel. Application: Champagne, French 75, Banana Bread.
Cherry Bark Vanilla
Woodsy and aromatic, these rustic bitters have a pleasant aroma of cocoa and bitter almonds, with flavors of vanilla, fennel and star anise. No pre-made extracts or flavors are used in our slow-crafted products. Select Ingredients: Wild cherry bark, Indonesian vanilla bean, quassia, gentian, star anise, mahlab, cardamom, ceylon cinnamon, fennel pollen. Application: Manhattan, Old Fashioned, Sour, Highball. Also a great vanilla extract substitute or in seltzer as a dry soda.
Jamaican No.1
Robust spice overtones, with ginger, allspice, clove and black pepper. Being so heavily spiced, Jamaican No. 1 complements cocktails, but can also be utilized in baking, marinades, and in vinaigrettes. Select Ingredients: Allspice, clove, fresh ginger, black pepper, cinnamon, grapefruit, lemon, gentian, lavender, hibiscus. Application: Ginger Beer, Tropical, Hot Cocktails, Punch, Marinades.
Jamaican No.2 
Jamaican No.2 is bright and acidic, with grapefruit and hibiscus overtones and underlying spice notes of allspice, ginger and vanilla. Select Ingredients: Grapefruit, hibiscus, allspice, clove, fresh ginger, black pepper, peppermint, gentian, vanilla, cassia. Application: Daiquiri, Margarita, Tropical, Punch, Mojito, Highball.
Orange 
Citrus forward with aromas of bright orange, toasted coriander, caraway and cardamom. Bittercube Orange Bitters are finished with a touch of burnt sugar, creating subtle, caramelized orange character. No pre-made extracts or flavors are used in our slow-crafted products. Select Ingredients: Valencia and navel oranges, coriander, caraway, quassia, black and green cardamom, burnt sugar, sassafras leaves, dandelion root. Application: Whiskey, Gin, Gimlet, Old Fashioned, Mojito, Manhattan, Highball, Wheat beer.
Bittercube Bitters are developed and created in Milwaukee, WI, by hand with naturally sourced ingredients. Bittercube was founded by Nicholas Kosevich and Ira Koplowitz in 2009. After successful stints at Town Talk Diner (Nick) in Minneapolis and The Violet Hour (Ira) in Chicago, they began developing, formulating, and tweaking the lineup. The first larger batches began maceration in July of 2010, and since then the business has grown to be distributed in more than 25 states around the country.
No extracts or oils have ever been used in Bittercube Bitters. The process is different for each flavor, with batches going through various phases on their way to completion, taking anywhere from 2 to 5 weeks depending on variety. Bittercube has grown from humble beginnings, starting with creating one gallon jars of bitters and growing to now producing batches in large maceration barrels – but the process has stayed the same.