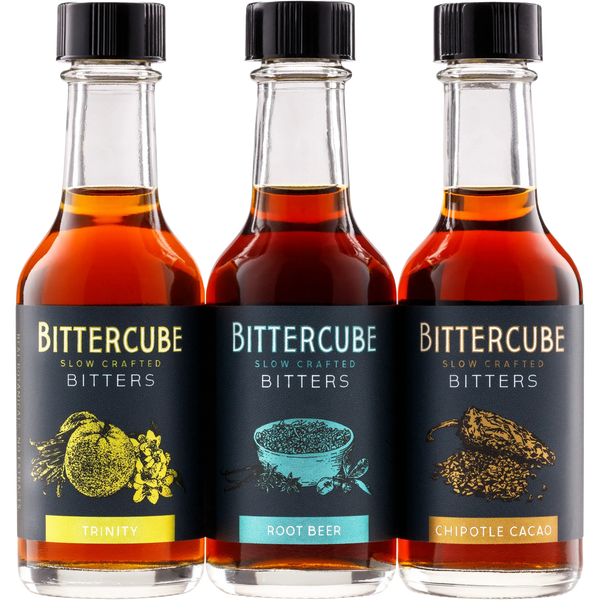 BITTERCUBE Variety Pack No. 2
Variety Pack No. 2 Contents:
Chipotle, Root Beer, Trinity
Chipotle Cacao
With a variety of chili peppers, cocoa, coffee and cubeb berries, Chipotle Cacao has great heat and depth of flavor, reminiscent of a mole. This unique variety of bitters is finished with agave nectar and sea salt, which rounds out an already exceptional and uncommon offering. Select Ingredients: Six types of chili pepper (Chipotle Morita), Aji Panca, Pasilla Negra, Cascabel, Urfa Biber and Aleppo), cocoa nib, coffee, cubeb berries, dandelion root, quassia. Application: Margarita, Hot Cocktails, Marinades, Oaxacan Old Fashioned.
Root Beer
Earthy and dark, Root Beer Bitters are complex and complement barrel-aged spirits. Citrus and herbal notes balance robust spices like anise and cinnamon. Select Ingredients: Sarsaparilla, Birch, Anise, Dandelion, Vanilla, Ceylon, Wintergreen. Application: Rum Old Fashioned, Tiki Cocktails, Hard Cider, Cookies.
Trinity
Combining a proprietary blend of Cherry Bark Vanilla, Bolivar and Orange Bitters creates an all-purpose bitters style. This union is rested for more than a month, amalgamating the flavors to produce a unique variety of versatile, aromatic bitters. Trinity bitters have subtle citrus and floral aromas, with complex flavors of oak, dried fruits and vanilla. Select Ingredients: Wild cherry bark, Indonesian vanilla bean, fresh orange peel, burnt sugar, cinnamon, dried fruit, chamomile and jasmine. Application: Old Fashioned, Manhattan and other spirited libations.
Bittercube Bitters are developed and created in Milwaukee, WI, by hand with naturally sourced ingredients. Bittercube was founded by Nicholas Kosevich and Ira Koplowitz in 2009. After successful stints at Town Talk Diner (Nick) in Minneapolis and The Violet Hour (Ira) in Chicago, they began developing, formulating, and tweaking the lineup. The first larger batches began maceration in July of 2010, and since then the business has grown to be distributed in more than 25 states around the country.
No extracts or oils have ever been used in Bittercube Bitters. The process is different for each flavor, with batches going through various phases on their way to completion, taking anywhere from 2 to 5 weeks depending on variety. Bittercube has grown from humble beginnings, starting with creating one gallon jars of bitters and growing to now producing batches in large maceration barrels – but the process has stayed the same.