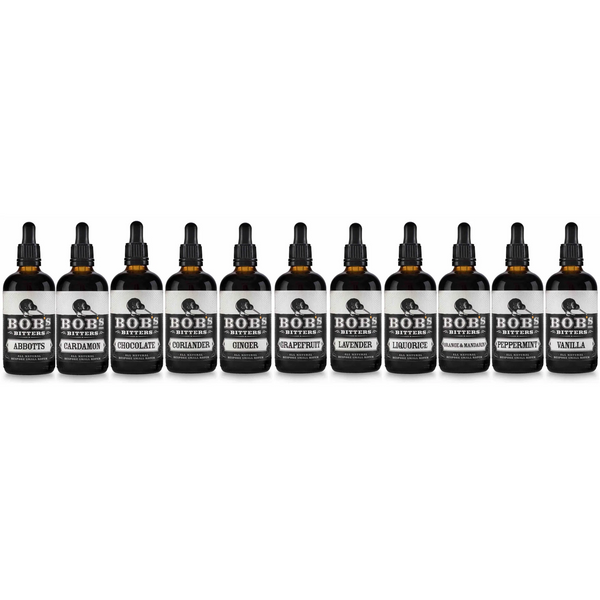 BOBS BITTERS Bitters Set
Bob's Bitters is a truly artisanal product. Bob hand-makes, bottles, labels and distributes his bitters all from his bespoke unit in Essex.
From grapefruit to chocolate, ginger to peppermint, Bob uses the finest ingredients steeped in alcohol, to create a collection of small-batch bitters that embody the purest flavor profiles.

Bob's Bitters are made by steeping the specific-flavor ingredients (cardamom, ginger, chocolate) in locally sourced alcohol. This process takes around five weeks for the single-ingredient bitters and up to six months for Abbotts Bitters, which are matured in American White Oak charred barrels during this period.
Bob's charming vintage-style pipette bottles deliver a perfect dosage every time.
Set Includes:
Abbotts, Cardamon, Chocolate, Coriander, Ginger, Grapefruit, Lavender, Liquorice, Orange & Mandarin, Peppermint, and Vanilla.
Abbotts
Abbotts Bitters were originally produced in Baltimore, but soon became popular across America, adding a sweet vanilla flavor to cocktails throughout the early 20th century. Taking five years to perfect, Bob's recreation of this classic recipe is the only product in his range to use a variety of aromatics, including lively peppermint, sweet cinnamon and warming spices.
Cardamon
Bob's warm, spicy-sweet cardamon bitters was created to mirror one of the principal botanicals contained in gin.
Chocolate
A complex flavor profile with strong cacao aromas, hints of mocha and malt and a dark chocolate palate with espresso notes and a barky, bitter finish.
Coriander
Coriander is one of the key flavors found in London Dry Gin, and Bob uses both the nutty coriander seeds and the fresh herb in his Coriander Bitters. The seeds add warmth while the leaves provide a zesty citrus hit.
Ginger
Bob uses an intense dried Chinese ginger to create Bob's Ginger Bitters - a warming liquid that can be added to food and drink for a gentle kick.
Grapefruit
Bob uses dried Italian fruit for a clean, crisp taste with that deep, distinctively grapefruit-y, bitter edge to create this punchy elixir.
Lavender
French lavender flowers, sweetly redolent of a Provençal garden, are steeped in alcohol to create this whimsical tincture.
Liquorice
Bob's Liquorice Bitters were initially created for Ago Perrone of the Connaught Hotel for use in cocktails using the newly reformulated Galliano L'Autentico. Dried licorice root offers a mellow and woody sweetness, creating this earthy liquid which will add a barky, fennel note to a cocktail.
Orange & Mandarin
South African oranges meet dried mandarin skin for a little extra complexity.
Peppermint
Dried Polish and Bulgarian peppermint leaves combine to create a bright peppermint bouquet and a distinctive menthol flavor. The resulting peppermint liquid has a hint of citrus and a slightly bitter, woody finish.
Vanilla
Bob uses Tahitian vanilla pods to create a tincture with subtle notes of tobacco and cacao with a creamy, toffee finish.