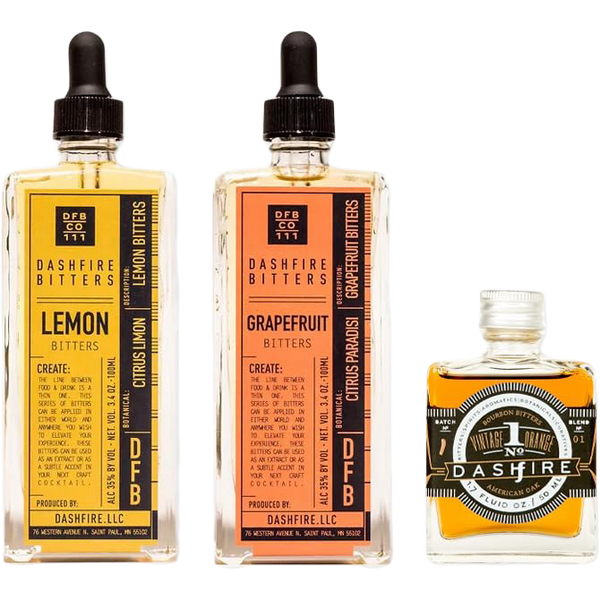 DASHFIRE Citrus Bundle #1 - Lemon, Grapefruit, Bourbon Barrel Aged Orange
Dashfire Lemon Bitters - bright, fresh and ultra pleasant. Fresh rinds are peeled and Dashfire takes extra special care to fully submerge the rinds during maceration to bring out the freshest and more aromatic qualities of the lemon. A solid replacement for a lemon twist if sprayed on top of a cocktail.
Use In: Honeymoon Cocktail, Golden Dawn, Flying Dutchman, Blue Moon, Vesper
Dashfire Grapefruit Bitters - an uncompromisingly fresh flavor and aroma. Made from carefully handpeeled fresh rind with a percentage of the pith included, these bitters provide a bright, refreshing citrusy flavor to your favorite cocktails. Enjoy a taste of the freshness that DASHFIRE Grapefruit Cocktail Bitters can bring.
Use in: Gin & Tonic, Martini, French 75, Hemingway, The Blinker
Dashfire Vintage Orange Bitters - Minnesota's first (and only) barrel-aged bitters. Fresh orange rind is combined with quality bourbon and select spices, and then aged in a Minnesota-made white oak barrel to incorporate the flavor and sugars of the oak.
Use In: Classics like Old Fashioneds and Manhattans.