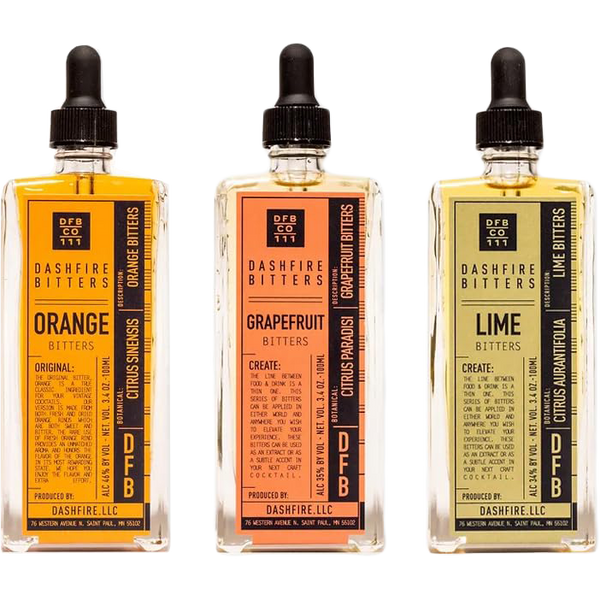 DASHFIRE Citrus Bundle #2 - Orange, Grapefruit, Lime
Dashfire Orange - bright and fresh, because they use fresh orange rind for the aroma and some dry bitter orange for the bitterness - along with a cardamom and a hint of orange flower water that allow this bitter to shine in whiskey, gin and vodka cocktails. A classic, reimagined.

Use In: Manhattan, Martini, Old Fashioned, The Liberal, Blood & Sand
Dashfire Grapefruit - an uncompromisingly fresh flavor and aroma. Made from carefully handpeeled fresh rind with a percentage of the pith included, these bitters provide a bright, refreshing citrusy flavor to your favorite cocktails. Enjoy a taste of the freshness that DASHFIRE Grapefruit Cocktail Bitters can bring.
Use In: Gin & Tonic, Martini, French 75, Hemingway, The Blinker
Dashfire Lime - you'll notice a fresh, more aromatic expression due to the use of fresh rind. Lime is a finicky botanical, especially when it is fresh, so Dashfire takes extra care to draw out its finer qualities. Try dripping some on the edge of your margarita glass.
Use In: Ford Cocktail, Margarita, Doctor Cocktail, Vesper, Gin & Tonic