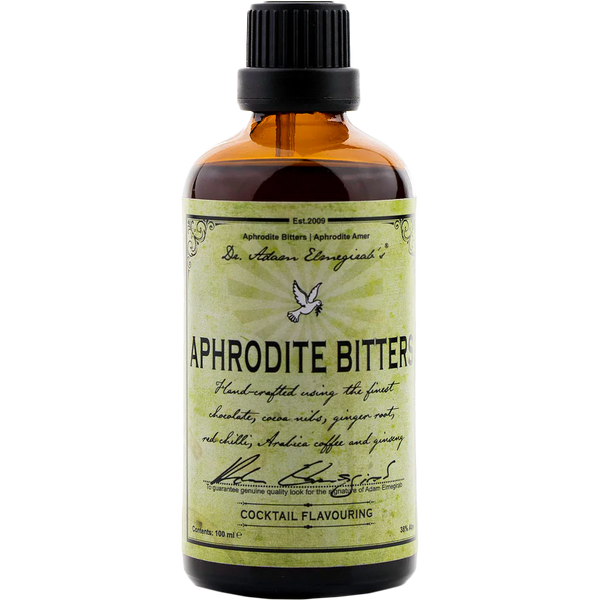 DR ADAM ELMEGIRABS Aphrodite Bitters 100 ml
Founded in 2009, Dr. Adam Elmegirab's Bitters was formed "for bartenders, by bartenders,", creating a fully transparent brand where honesty and authenticity is at the heart of all that they do. Their sole desire is to create a range of unique, quality, hand-crafted products for the growing demands of the drinks industry, with the spotlight being shone on botanicals and the influence they have in the cocktail world.
In keeping with traditional production techniques, all the bottlings are hand crafted, combining high quality spirit purchased from England's Langley Distillery with specially selected botanicals sourced from across the globe. Dr. Adam Elmegirab's Bitters are all produced with natural - and organic in every case possible - ingredients with no glycerin, preservatives, or synthetic flavorings and colorings.
Aphrodite
Taking their name from the Greek goddess of sexuality and love, Aphrodite Bitters pay tribute to the original medicinal usage of bitters, with the botanicals selected for this bottling having been chosen for their alleged aphrodisiac qualities, aphrodisiacs being substances that are believed to increase desire. These bitters are compounded to create a complex profile focused on the sensuous flavors of coffee and cacao, supported by an array of botanicals which play off and enhance one another making for an end product that is as intricate as it is versatile. 
Key Botanicals
Cacoa nibs (Brazil)
Fazendo Pantano coffee (Brazil)
Red chillies (Various)
Dried ginger root (China)
Allspice berries (Jamaica)
Black peppercorns (Brazil)
Gentian root (France)