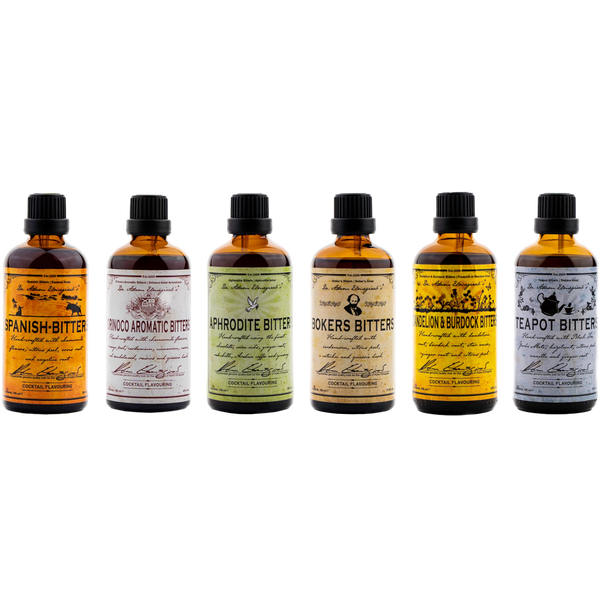 DR ADAM ELMEGIRABS Cocktail Bitter Set of 6
Founded in 2009, Dr. Adam Elmegirab's Bitters was formed "for bartenders, by bartenders,", creating a fully transparent brand where honesty and authenticity is at the heart of all that they do. Their sole desire is to create a range of unique, quality, hand-crafted products for the growing demands of the drinks industry, with the spotlight being shone on botanicals and the influence they have in the cocktail world.
In keeping with traditional production techniques, all the bottlings are hand crafted, combining high quality spirit purchased from England's Langley Distillery with specially selected botanicals sourced from across the globe. Dr. Adam Elmegirab's Bitters are all produced with natural - and organic in every case possible - ingredients with no glycerin, preservatives, or synthetic flavorings and colorings.
Aphrodite
Taking their name from the Greek goddess of sexuality and love, Aphrodite Bitters pay tribute to the original medicinal usage of bitters, with the botanicals selected for this bottling having been chosen for their alleged aphrodisiac qualities, aphrodisiacs being substances that are believed to increase desire. These bitters are compounded to create a complex profile focused on the sensuous flavors of coffee and cacao, supported by an array of botanicals which play off and enhance one another making for an end product that is as intricate as it is versatile. 
Key Botanicals:
Cacoa nibs (Brazil)
Fazendo Pantano coffee (Brazil)
Red chillies (Various)
Dried ginger root (China)
Allspice berries (Jamaica)
Black peppercorns (Brazil)
Gentian root (France)
Bokers
Originally founded by Johann Gottlieb Böker in 1828, Boker's Bitters gained popularity around the World as the finest bitters of the Golden Age of mixed drinks. Tasting and analysing original samples, referencing historical medical guides, as well as unearthing court records and a series of counterfeit recipes dating as far back as 1853, Dr. Elmegirab used these findings to reformulate a historically accurate representation of Boker's Bitters and brought them back to market at the end of 2009.
Key Botanicals:
Dried orange peel (Spain)
Green cardamom pods (Guatemala)
Catechu (India)
Quassia bark (Jamaica)
Star anise (Vietnam)
Cloves (Sri Lanka)
Angelica Root (China)
Dandelion and Burdock
Originally a type of light mead that dates back to the 1300s, the original recipe was thought to have been created by the Italian priest Saint Thomas Aquinas and was famed for its alleged medicinal properties, similar to the many cocktail bitters that followed in later years. Taking inspiration from Dandelion & Burdock formulae used to produce sodas and beers, Dr. Elmegirab successfully devised a recipe which better represent the style associated with cocktail bitters.
Key Botanicals:
Dried orange peel (Spain)
Dried lemon peel (Spain)
Ginger root (China)
Dandelion root (China)
Burdock root (China)
Star anise (Vietnam)
Gentian root (France)
Orinoco
Originally produced by the Blemmerg Manufacturing Company in Boston during the late 1800s, named after one of the longest rivers in South America which runs through Colombia and predominantly Venezuela, Orinoco Aromatic Bitters hark back to a bygone era but also embrace modern cocktail culture, giving bartenders the opportunity to recreate former classics but also construct their own.
Key Botanicals:
Quassia bark (Jamaica)
Dried chamomile flowers (Egypt)
Dried orange peel (Spain)
Green cardamom pods (Guatemala)
Ceylon cinnamon (Sri Lanka)
Cassia bark (Indonesia)
Angostura bark (Venezuela)
Red sandalwood (Gabon)
Raisins (USA)
Spanish
During the mid-1800s, Spanish Bitters were first found and celebrated for their medicinal benefits - but it was the botanical profile and flavor that was really of interest, allowing Dr. Adam Elmegirab to build on the citrus and floral base by removing botanicals which were no longer deemed safe for consumption, while replacing them with ingredients which would compliment and enhance the primary flavors but at the same time work in harmony with the many spirits used in bars around the world today.
Key Botanicals:
Dried chamomile flowers (Egypt)
Dried orange peel (Spain)
Dried lemon peel (Spain)
Coriander seed (Morocco)
Orris root (Morocco)
Angelica root (China)
Gentian root (France)
Teapot
Ancient tea and spice routes shaped historic civilizations and their impact can still be felt today in tea rooms around the world with beverages such as Masala Chai (Indian spiced milk tea) garnering an ever-growing global fanbase. Formulas for Masala Chai along with Dr. Elmegirab's personal experiences with tea in the United Kingdom and the Middle East provided all the inspiration for a product unlike any other, which has since gained a cult-like following in every corner of the globe due to their ability in offering a consistent tea flavor to mixed drinks.
Key Botanicals:
Orthodox black tea (China)
Yerba mate (Brazil)
Dried lemon peel (Spain)
Ginger root (China)
Allspice berries (Jamaica)
Star anise (Vietnam)
Ceylon cinnamon (Sri Lanka)
Vanilla pods (Brazil)
Fennel seed (Italy)
Green cardamom pods (Guatemala)
Cloves (Sri Lanka)
Black peppercorns (Brazil)
Gentian root (France)