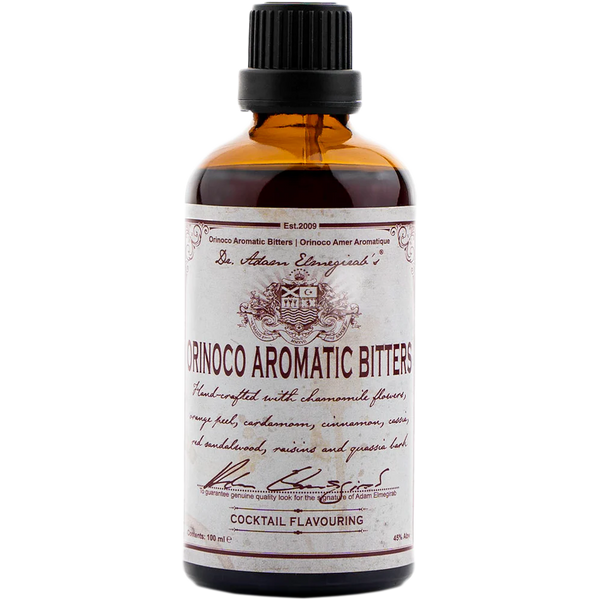 DR ADAM ELMEGIRABS Orinoco Bitters 100 ml
Founded in 2009, Dr. Adam Elmegirab's Bitters was formed "for bartenders, by bartenders,", creating a fully transparent brand where honesty and authenticity is at the heart of all that they do. Their sole desire is to create a range of unique, quality, hand-crafted products for the growing demands of the drinks industry, with the spotlight being shone on botanicals and the influence they have in the cocktail world.
In keeping with traditional production techniques, all the bottlings are hand crafted, combining high quality spirit purchased from England's Langley Distillery with specially selected botanicals sourced from across the globe. Dr. Adam Elmegirab's Bitters are all produced with natural - and organic in every case possible - ingredients with no glycerin, preservatives, or synthetic flavorings and colorings.
Orinoco
Originally produced by the Blemmerg Manufacturing Company in Boston during the late 1800s, named after one of the longest rivers in South America which runs through Colombia and predominantly Venezuela, Orinoco Aromatic Bitters hark back to a bygone era but also embrace modern cocktail culture, giving bartenders the opportunity to recreate former classics but also construct their own.
Key Botanicals:
Quassia bark (Jamaica)
Dried chamomile flowers (Egypt)
Dried orange peel (Spain)
Green cardamom pods (Guatemala)
Ceylon cinnamon (Sri Lanka)
Cassia bark (Indonesia)
Angostura bark (Venezuela)
Red sandalwood (Gabon)
Raisins (USA)girab's personal experiences with tea in the United Kingdom and the Middle East provided all the inspiration for a product unlike any other, which has since gained a cult-like following in every corner of the globe due to their ability in offering a consistent tea flavor to mixed drinks.
Key Botanicals:
Orthodox black tea (China)
Yerba mate (Brazil)
Dried lemon peel (Spain)
Ginger root (China)
Allspice berries (Jamaica)
Star anise (Vietnam)
Ceylon cinnamon (Sri Lanka)
Vanilla pods (Brazil)
Fennel seed (Italy)
Green cardamom pods (Guatemala)
Cloves (Sri Lanka)
Black peppercorns (Brazil)
Gentian root (France)
Winter Spiced
Winter Spiced Bitters bring to life the flavors, aromas and botanicals commonly associated with the harsh winter season. Dried fruits, warm citrus, baking spices, fire, and wood smoke were all central to the flavor profile.
Key Botanicals:
Dried cranberries (USA)
Nutmeg (India)
Mace blades (India)
Ceylon cinnamon (Sri Lanka)
Allspice berries (Jamaica)
Star anise (Vietnam)
Cloves (Sri Lanka)
Green cardamom pods (Guatemala)
Cacao nibs (Brazil)
Dried orange peel (Spain)
Liquorice root (Syria)
Rhubarb root (China)
​Gentian root (France)