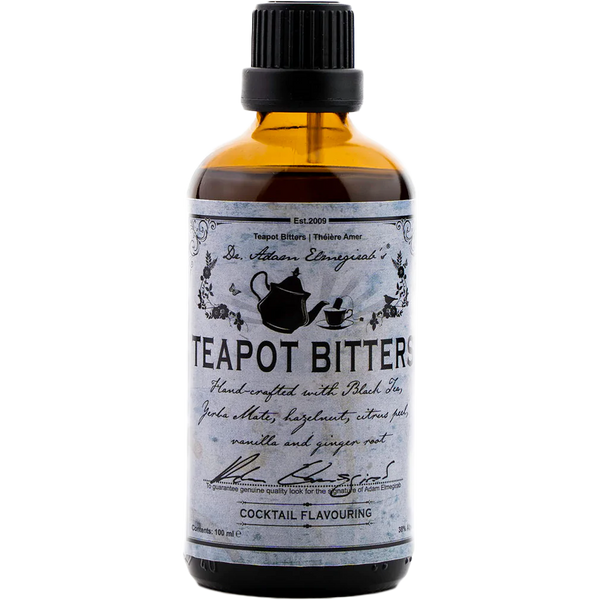 DR ADAM ELMEGIRABS Teapot Bitters 100 ml
Founded in 2009, Dr. Adam Elmegirab's Bitters was formed "for bartenders, by bartenders,", creating a fully transparent brand where honesty and authenticity is at the heart of all that they do. Their sole desire is to create a range of unique, quality, hand-crafted products for the growing demands of the drinks industry, with the spotlight being shone on botanicals and the influence they have in the cocktail world.
In keeping with traditional production techniques, all the bottlings are hand crafted, combining high quality spirit purchased from England's Langley Distillery with specially selected botanicals sourced from across the globe. Dr. Adam Elmegirab's Bitters are all produced with natural - and organic in every case possible - ingredients with no glycerin, preservatives, or synthetic flavorings and colorings.
Teapot
Ancient tea and spice routes shaped historic civilizations and their impact can still be felt today in tea rooms around the world with beverages such as Masala Chai (Indian spiced milk tea) garnering an ever-growing global fanbase. Formulas for Masala Chai along with Dr. Elmegirab's personal experiences with tea in the United Kingdom and the Middle East provided all the inspiration for a product unlike any other, which has since gained a cult-like following in every corner of the globe due to their ability in offering a consistent tea flavor to mixed drinks.
Key Botanicals:
Orthodox black tea (China)
Yerba mate (Brazil)
Dried lemon peel (Spain)
Ginger root (China)
Allspice berries (Jamaica)
Star anise (Vietnam)
Ceylon cinnamon (Sri Lanka)
Vanilla pods (Brazil)
Fennel seed (Italy)
Green cardamom pods (Guatemala)
Cloves (Sri Lanka)
Black peppercorns (Brazil)
Gentian root (France)