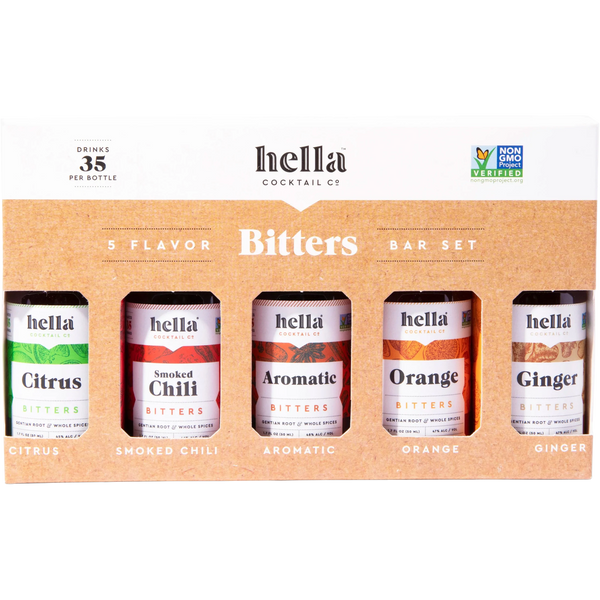 HELLA BITTERS 5 Flavor Bar Set
Bitters are rooted strongly in both cocktail history and digestive health. They are and have always been the bartender's spice cabinet. Hella serves elevated beverage choices where great taste is essential and the buzz is optional. Whole botanicals, non-GMO ingredients and rich flavors make their bitters a fun and creative addition to your beverage and food creations.
5 oz / 148 mL
Certified Non-GMO
Always Made from Whole Botanicals
Excellent in Cocktails & Cooking
Shelf-stable indefinitely, no refrigeration required after opening
5 Flavor Bar Set
Can't decide which flavor you want? Get an array of great options: Citrus, Smoked Chili, Aromatic, Orange and Ginger in 1.7-ounce versions. Includes one recipe per flavor.
Aromatic
The quintessential aromatic notes of cinnamon, clove, and Jamaican allspice with the depth and kick of black peppercorns and caraway. Wormwood and Gentian root together create a symphony of bitter spice. The bitter finish is prominent and complex without being overwhelming—a true classic. Ingredients: Water, Alcohol, Wormwood, Caramel, Gentian & Spices
Citrus
As many as four varieties of citrus pith go into this recipe. The result is fantastic; full, bright, and aromatic, with a lot of versatility. Fantastic in cooking too. Ingredients: Water, Alcohol, Caramel, Citrus Peel, Gentian, Roots, Spices
Ginger
Hella uses both dried and crystallized ginger and lots of real lemon peels. The result is a bitters with the vibrant kick you expect from ginger coupled with the brightness of lemon. Ingredients: Water, Alcohol, Caramel, Ginger, Lemon & Orange Peel, Gentian, Roots, Spices
Orange
A superior, orange-heavy formula relying on the purity and simplicity of real ingredients. No orange extracts here, just real skins. The aromatic spice blend completes this dynamic and full bodied Orange bitters. Ingredients: Water, Alcohol, Caramel, Orange Peel, Gentian, Spices
Smoked Chili
The smoked chili's used in this formula are probably unlike those you've tasted before. The result is satisfyingly spicy, rich, smoky and transportive, and it's sure to add a superior depth to your cocktails. Ingredients: Water, Alcohol, Caramel, Whole Smoked Chili, Orange Peel, Gentian, Spices