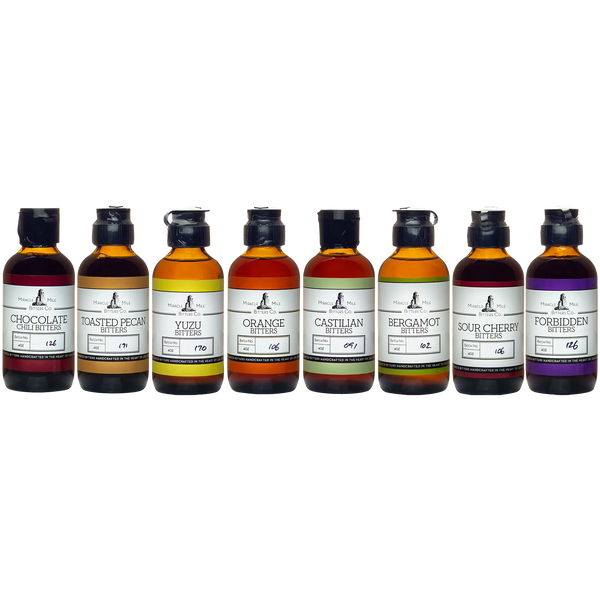 MIRACLE MILE Miracle Mile Bitters Set of 8- Bergamot,Castillian,Chocolate Chili, Forbidden,Orange,Sour Cherry, Toasted Pecan, Yuzu
Bergamot
Bergamot is a variety of sour orange, with a fragrant oil most notably used to flavor Earl Grey Tea. These bitters combine organic Bergamot Oil with Sweet and Bitter Orange, Cardamom, Cinnamon, Summit Hops and other herbs and spices. Perfect for clear spirits such as Gin or Pisco.
Castilian
Based on a 19th Century recipe, Licorice and Dandelion Root are combined with Gentian, Cardamom, Grains of Paradise and other spices, and finished with caramelized Demerara Sugar. Sweet, herbaceous, and bitter, this bitters is a wonderful companion to drinks made with tequila or mezcal.
Chocolate/Chili
Warm baking spices like Cinnamon, Clove, Ginger, and Star Anise are infused with Valrhona Cacao Nibs and a blend of three kinds of chilies, for a palate tickling finish. A natural for dark spirits like tequila or rum, ice cream, and coffee.
Forbidden
In the style of a 19th Century Aromatic Bitters, these combine exotic root spices such as Zedoary, Angelica Root, and Galangal, along with aromatics such as Vanilla, Clove, Cinnamon, and Cardamom. A natural with aged spirits, they also pair well with Gin and Genever.
Orange
A classic Orange Bitters, these are very citrus forward with Bitter and Sweet Orange Peel, Lemon Peel, and Cinchona, Juniper, Cinnamon, and other spices to round out the finish. Perfect for a traditional Dry Martini.
Sour Cherry
Rich cherry flavor, coming from organic Wild Cherry Bark and Sour Michigan Cherries. Spices such as Cardamom, Cinnamon, and Ginger blossom in the middle, and a hint of Orange Blossom Honey on the finish. 
Toasted Pecan
Like a Southern Pecan Pie in bitters form, these bitters combine Toasted Pecans with Wild Cherry Bark, warm baking spices such as Cinnamon, Vanilla, and Clove, and the richness of Steen's Cane Syrup. An absolute natural for Bourbon drinks, try them in a Bourbon Sour with muddled peaches.  
Yuzu
A variety of Japanese citrus, Yuzu are renowned for their taste and aroma, somewhere between a Mandarin and a Grapefruit. These bitters combine them with traditional bitters ingredients such as Cinchona, Cardamom, and Burdock Root, and two kinds of Green Tea to round out the finish. Yuzu Bitters are a wonderful companion to drinks that lean toward the floral, citrus, herbal, and sweet side of things.