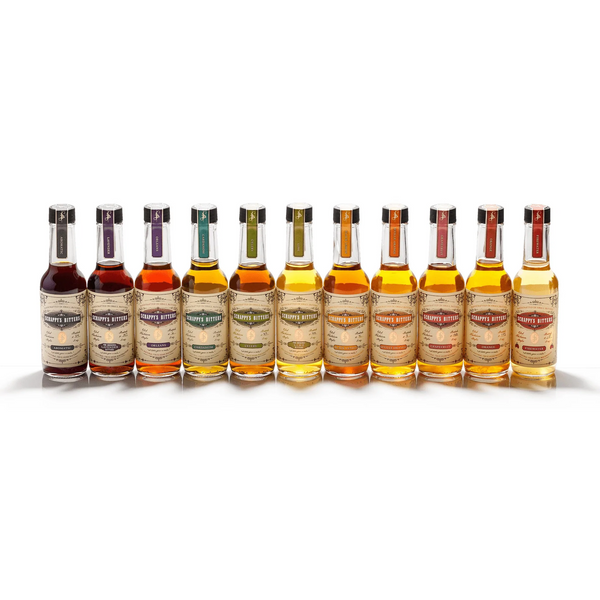 Scrappy's Cocktail Bitters - 5 oz Collection 1 Pack
Seattle bartender Miles Thomas founded Scrappy's Bitters in his search for better bitters. He dove headfirst into research and development, immersing himself in the world herbs and extraction methods. He learned to pair flavors to intensify the taste he was seeking, and he came to understand that there were not only many ways to extract flavor from the same source, but that each yielded a different taste. His journey proved fruitful: After years of experiments, Scrappy's officially launched in 2008, and a small, but dedicated team has been making handcrafted bitters in Seattle, WA ever since.
Aromatic
Scrappy's answer to the classic aromatic bitters. These bitters were created to be used in classic cocktail recipes. They add balance – and a bit of spice – to your favorite spirits. They make a killer Bar Ginger, too!
Black Lemon
A "Black Lemon" is an earthy, smoky, spice commonly used in Middle Eastern cooking, and contrary to what the name suggests, is actually a dehydrated lime, but the name of the spice was a mistranslation from Arabic to English ages ago. Despite not having any actual "black lemon" in this bitters, the bright and fresh lemon flavor has rich floral notes and deep earthy spices that are reminiscent of the "black lemon," hence the name.
Cardamom
Release the pure essence of cardamom balanced with delicate citrus. Whether crafting a heady rum punch or wistful warming toddy, cardamom bitters adds a potent kick to your mix.
Celery
Using an antique recipe, Scrappy's invoked the Old World flavors of a nineteenth century bar. Now you can do the same with a touch of celery seed accented with hints of citrus.
Chocolate
Organic toasted cacao nibs bring this blend to life and, with just a hint of spice and oak, imparts the essence of chocolate into any drink. Truly a necessity in any well stocked bar.
Fire Tincture
Perfect for adding clean spice and heat to any drink or dish without compromising the integrity of the base ingredients, this habanero tincture balances the heat of habanero peppers with delicate floral notes, and subtle sweetness. It should be noted to exercise care in handling, and use very sparingly, as this tincture is extremely spicy.
Grapefruit
The natural bitterness of grapefruit zest mingled with gentian. You'll find an endless variety of uses for this age-old flavor, now with a modern twist.
Lavender
Scrappy's flagship blend. Bright, sweet, yet remarkably well rounded. They captured spring in a bottle - which allows you to place the soul of the lavender flower in a glass.
Lime
Intense, fresh organic lime is the forgotten element in many drinks. You'll discover what you've been missing once you experience the flavor.
Orange
A craft bar staple for over 150 years.Scrappy's orange bitters continues the tradition with this unique blend of bright, fresh and bitter oranges, herbs, and spices.
Orleans
A New Orleans style bitters, with a fresh bouquet and strong anise taste complimented by notes of citrus, cinnamon, and a bitter floral finish, this bitters is perfect for your Sazerac, Vieux Carrés, and everything in between.
Seville Orange
The classic winter citrus. With more depth and complexity than a traditional orange, Scrappy's Seville Orange Bitters is reminiscent of marmalade and comforting winter spices with subtle floral notes. Made from fresh Seville Orange peel, this bitters is hyper-seasonal, only available in the winter, and is the perfect bitters for your holiday food and beverage applications.